---
What Tai Chi is
Tai Chi was created in China in the 17th century. It was first a martial art, but it's much more than that today. It is a mind and body practice that inherited thousands of years of empirical knowledge about body movement, health, energy circulation and meditation. Tai Chi can be a path to a better, more wholesome way of life and a happier state of mind, to being closer to your inner self, and to stronger health and vitality.
---
Tai Chi classes in Ottawa, ON
You can practice Tai Chi with me in Ottawa, ON. I teach just south of the intersection of Merivale Road and West Hunt Club:
Tai Chi lessons on Tuesdays and Thursdays, from 6:30 to 7:30 pm, in the Merivale United Church Hall.
Here's how to contact me.
---
History of Tai Chi
Tai Chi was created by Chen Wangting, a commander from the Ming Dinasty in China, in 1644. Chen Wangting fought for the government, and when the dinasty fell, he went back to his hometown. Being away from the military, he had contact with Taoist meditation and energy circulation teachings. By joining his military knowledge and experience with the Taoist practices, he created a training system that he taught to his descendants, who preserved is teachings alive throughout the following generations. Chen Wangting belonged to the 9th generation of the Chen family in the county of Wen, Henan province. Chenjiagou, his hometown, is the destination of choice to those who wish to learn the original Tai Chi style in China.
---
Tai Chi styles
The patriarch of the 14th generation of the Chen family, Chen Changxing, kept the Tai Chi tradition alive by teaching his clan's members. One of them was Chen Dehu, owner of a herbal apothecary, hosted the lessons in his courtyard. One of his housekeepers was Yang Luchan, who lived in the house since is childhood. He was deeply interested in Tai Chi, and by insisting and asking for a long time, was granted then privilege of attending the classes, even tough he didn't belong to the clan. After 17 years of training, Yang Luchan was considered a family member, and was allowed to leave to Beijing, where he became famous for his Gongfu. His classes in the capital originated what became known as Yang Style Tai Chi, from which yet others styles stemmed.
---
Tai Chi and Chi Kung
What is it that makes Tai Chi more than simply a slow motion exercise? And more, why move that slowly?
The answer is Qigong, or Chi Kung. Any exercise designed with a goal of promoting vital energy circulation in the body may be called Qigong, and there are hundreds of those. In Chen family Tai Chi, we practice two kinds of Qigong: Standing Meditation (Zhanzhuang) and Silk Reeling hi Kung (Chansigong). Tai Chi is usually performed in a slow pace to allow time for the movements to be done with the precision and care necessary to foster good energy circulation, but if the student is skilled enough, Tai Chi can be done at a fast pace.
---
Tai Chi Chuan an your health
Tai Chi has received a lot of influence from Taoist practices and Chinese Medicine. Energy circulation practices aim to increase vitality, and promote better energy flow, which are therapeutical strategies of Chinese Medicine. On the other hand, Tai Chi was born as a martial art - however, it was not a simple collection of fighting techniques for foot soldiers, but rather refined system that was taught only to the founder's family members. Tai Chi is the only martial art that was designed, from its inception, to keep the students healthy.
Built upon the observations on natural laws of Yin-Yang harmony, Tai Chi is infinitely adaptable, and can be practiced by athletes and frail people alike, being useful both for demanding strength training and rehabilitation. This is why Tai Chi is hugely popular, and has become subject of scientific researches that pont to its health benefits. A recent example is a paper in the New England Journal of Medicine showing Tai Chi offers Parkinson patients more gains than common exercises.
---
Tai Chi, martial arts and self-defense
Tai Chi is a martial art, and can be used for self-defense. It should be understoog, tough, that Tai Chi is based on acquisition of skills that should appear naturally, by changing the body. This is very different, and requires many times the hours of practice, than learning techniques. Tai Chi was created by a military commander to be taught inside his family, which menas it was originally transmitted to students that were in constant contact with their teacher, and dedicated professionally to their training. The Chen clan became famous as commercial caravan bodyguards in turbulent tines in countryside China.
---
Tai Chi movements
Tai Chi movements are done in a fluid and continuous manner, and should be practiced in a deliberate way, with complete mindfulness. They should be led by the center of the body - the area from the higher end of the thighs to about navel height - as it is in this area that most of te muscle mass is. At the same time, in the energetic center of the body, known as the Dantian is in the middle of this area. The movement sequences in Tai Chi are called "Forms", and they come in various sizes and degress of complexity. In Chen Style Tai Chi, the traditional forms have 75 and 83 movements, but there are more modern from with 19 and 9 movements, created for didactic purposes. Tai Chi movements can also be fast and explosive, as when fajin is executed.
---
About me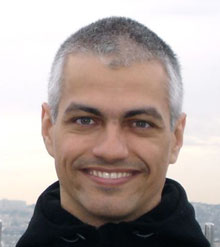 My name is Eduardo Molon. I stared to practice Tai Chi in 1998, in Grandmaster Chen Xiaowang's seminars. At his request, i was accepted by his son Chen Yingjun as a student, from whom i receive indoor training.
I have lived in China and Australia for two years to dedicate to learn from Chen Yingjun, I've been authorized by the Grandmaster to teach, and i'm certified by the Chinese Wushu Association, the Chinese representation in IWF, in the 5th Duanwei. I have organized Master Chen Yingjun's seminars in Brazil for 9 years, edited a Tai Chi printed magazine during that time, and have taught seminars in Chile.
Testimonials
Among the many experiences i had with martial arts teachers, both locally and internationally, i can say my Chen style Ctai Chi classes with Eduardo Molon were the most enriching. His high technical qualifications and his inexhaustible will to pass on the complete system of training, make the teacher-student relationship a very positive one. If you are looking for world-class Tai Chi practice, in a excellent environment, and would like to be part of an association keeping the original Tai Chi knowledge, in a pure lineage of transmission, Eduardo is certainly the best option in Ottawa.
— Jucelito Wainer
With insurpassable calm and technique, Eduardo makes Tai Chi seem easier than it actually is. In his informal, relaxed classes, you will better yourself and not only learn the moves, but why they are that way. With his lifelong dedication to Tai Chi, Eduardo makes his classes memorable.
— Rodrigo Trovão
I am happy to assess Eduardo's classes, because i'm pleased to report it is a joy to practice and learn from him. My lessons were at 7am, and i have a hard time getting up early, but there wasn't a single day when i regret getting out of bed, as at the end of the lesson I always felt so good! Besides his irreproachable skill, Eduardo's eyes have the shine of people who love what they do, that dedicate themselves to their art and are invested in passing on their knowledge. It is always interesting to hear his stories from when he was learning, i hope to get back to his classes soon!
— Leonora Fróes
I was lucky to meet Eduardo a while ago, and even tough i could only go to his classes for three months, they became memorable to me. I was able to feel the depth of his thousand years old art, and could feel the changes in my body. My health was better and I got to know a more subtle form of energy. Eduardo is really dedicated and focused on his job, and knows the subject very well. He's also friendly and helpful, and it makes a big difference in any job, specially when you are teaching. I wish him a lot fo success, and i hope to get back to the classes soon.
— Daniel Machado
I have followed Eduardo's history for a long time, as we have known each other for more than 20 years. He is a dedicated teacher, and a competent and qualified one: precious and rare qualities nowadays, when a two-weekend course will award anyone a teacher certificate. He was a pioneer in implementing Chen style Tai Chi in Brazil, and he's already part of the history of this art. I wholeheartedly recommend him.
— Daniel Luz
I got to know Eduardo's Tai Chi classes when i was near my sixties, an feeling some changes and pain in my body. I had always been active, doing both western and eastern body work. With Eduardo's classes, however, I felt how important his teachings were to me, and every day i went to his class i was sure that there was still energy and vigour in me, and i simply didn't know how to use them before. His invested, but light way to teach, tied to his high skill, have been fundamental for my life quality, and the different outlook I have on it now.
— Denise Comte
Practicing Tai Chi with Eduardo is getting in touch with a highest level, sophisticated art: Chen style Tai Chi, passed on from one generation to the next, in a master-disciple lineage. Eduardo, being in this lineage, perfectly incarnates the Tai Chi master. He lives what he teaches, and it is very inspiring. I recommend him to all.
— Leonardo de Amorim Thury
---
---
All rights reserved for Eduardo Molon © Plagiarism is very, very bad karma.